 Samples Security + Energy Saving

Natural Gases Refrigerants
TEC2 ULT BIO FREEZER
Natural Refrigerants, Safest Storage, Smartest Freezer
New upgraded TEC2 TECHNOLOGY with Natural Refrigerants, Hydro carbon Based to lower GMP, 100% redundancy with two complete and independent refrigeration systems.
The second compressor acts as a backup, and energy usage is dramatically reduced.
Standard ultra-low freezers rely on a cascade refrigeration system. If this system fails, the freezer and your samples have to be removed in couple of hours. LN2 or CO2 backups only sustain temperatures for approximately 7 hours, and require routine re-filling, maintenance & supervision.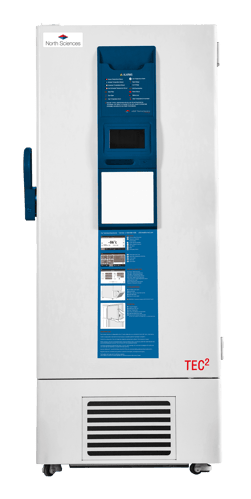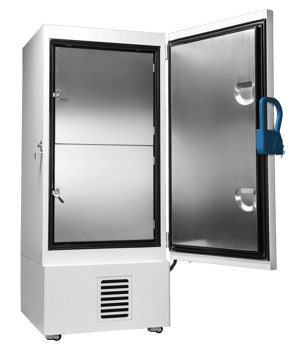 PERFECT for COVID-19 Vaccines, critical material storage in biorepositories, medical research facilities, BSL4 labs, hospitals, anywhere valuable samples need to be stored safely
SAFEST TWINCORE™ BASED TECHNOLOGY employs 2 Core, 2 refrigeration system, 2 control commands for Compressors, enabling one to maintain temperature if the other is disabled, unparalleled safety!
FAST Dual Cooling system enables the fastest pull down (4.5hr) & door opening recovery times (80min) after 2min door opening.
TIGHTEST UNIFORMITY industry best +/-2.5C uniformity ensures your samples are being stored within the proper temperature range to maintain integrity
GREATLY reduced frost development on the inner compartment doors due to interlocking gasket design and heated door seal
MORE ULT Sample Storage on your Floor Space, 50-90% more samples in the same space
UNIQUE revolutionary dual core refrigeration system
NEW HANDLE Lockable Door Handle for easy access
EASIEST to use, color 7'' touchscreen panel allows full user control
HANDIEST USB PORT makes transferring logged data to a PC simple and convenient. Important information such as freezer temperature, door opening times and alarm history is logged for monitoring in GLP applications.
BEST INSULATION Combining vacuum insulation panels with high efficiency dual layered insulated inner doors ensures longest cold retention and pull-up times. Ensures optimum temperature uniformity, while reduced wall thickness maximizes storage capacity and reduces energy usage by 40%.
Compact reliable, energy-efficient storage for cold-chain management, short-term or long-term ultra-low storage and transport of biological specimens.
Freezer Storage Racks
Large selection of Freezer Racks designed to organize & protect your frozen laboratory sample inventory in our Freezers
Optimizing internal freezer capacity.
We have a wide selection of freezer racks, try our RACK CONFIGURATOR.
Four Ways to Contact Us for Support