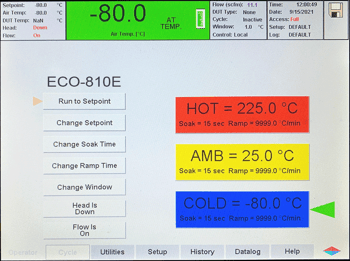 E Series Systems Equipped with Embedded
Software Controls, Eliminating Windows® OS
· Significant reduction in security vulnerabilities
· Minimizes software and hardware obsolescence concerns
· Improved responsiveness of the touch screen
· Faster system boot and startup times
Eco-friendly Electronics Temperature Test Systems
Consumes less energy, quiet operation,
no annual leak testing
required (EU F-Gas Regulation)
The ECO Series is an environmentally friendly Temptronic® ThermoStream® temperature forcing system that uses less energy with ECO series thermal test system very low audible noise. The temperature test system operates on a low, 20-amp circuit and incorporates the company's proprietary technology providing quiet, smooth-sounding operation at 56 dBA. The ECO-710 and ECO-810 are designed for 24/7/365 day use in production or lab environments where audible noise, heat dissipation, and energy usage are of concern.
Furthermore, the ECO system frees you from the time and expense of annual leak testing because its gas charge is below the CO2 equivalent limit for greenhouse gas emissions as specified in the EU 517/2014 regulation. After 2016, all refrigeration systems shipped to EU countries, portable and stationary, will require labeling of gases used, their weight, and CO2 equivalent. Any refrigeration system with a charge of 10 tonnes or greater will require annual leak checking.
• Precise temperatures with fast transitions from -80 to 225°C
• No annual leak testing required per EU 517/2014 F-Gas Regulation
• Effective testing and conditioning of electronic components, boards, and modules
• Available for 50 and 60Hz operation
• No need for Liquid Nitrogen (LN2) or Liquid Carbon Dioxide (LCO2)
• Remote communications and set up and touch screen operation
ECO systems complement the performance of the industry standard ATS ThermoStream product line.
Four Ways to Contact Us for Support