About inTEST Thermal Solutions
inTEST Thermal Solutions (iTS) specializes in the design and manufacture of precision temperature control systems. Our breadth of products and in-house engineering capabilities allow us to be a single-partner-solution for thermal test, process cooling, and cold storage applications. We are recognized globally for our expertise in precise temperature control and simulation of extreme thermal environments, from -185 to +500°C, with rapid transitions or long dwell times. The iTS family includes four product brands: Temptronic, Sigma Systems, Thermonics, and North Sciences. inTEST Thermal Solutions is a wholly owned subsidiary of inTEST Corp, Mount Laurel, New Jersey, USA.
With decades of product development, manufacturing and delivering over 100,000 controlled heating and cooling systems, we can address your specific requirements:
• Wide temperature range (-185°C to +500°C)
• Fast transitions (up to 50°C/sec)
• Cryogenic, compressor-based, solid-state cooling
• Temperature forcing, air & liquid environments
• Small footprint, Custom access
• Precise temperatures, High uniformity
• Extreme reliability
Thermal systems such as ThermoStream® forcing systems, thermal chambers, thermal platforms, and portable chillers provide end users and OEMs with highly reliable solutions. A worldwide network of local service providers and regional service centers ensure support that customers rely upon.
Combining the design and manufacturing operations of custom and standard products businesses, we provide the perfect blend of capabilities:
• Ultra-low temperature refrigeration
• Controls engineering
• Package design
• Flexible manufacturing
After decades of solving thermal problems for development, lab, and production applications, we still get charged up about new temperature applications.
Talk to us about your thermal needs.
• On-time Delivery
• Reduction of Customer Complaints
• Supplier Quality
• Internal Yield
• Continuous Improvement
Engineering
Our engineering expertise is second to none. From the thermodynamic, mechanical, electrical, and software disciplines to systems integration – all performed in-house – we ensure that our temperature systems will perform to your specifications. These capabilities give us design flexibility and rapid development turnaround time.

Mechanical designs, structural and fluid analysis are conducted using SolidWorks modeling and simulation tools. Our internally developed simulation process ensures that components are properly sized for the test, conditioning, or tuning application.

Combining modern engineering methods and materials, our team develops reliable, high-performance thermal systems – including custom designs with the smallest footprint possible. We are one of a few companies in the world to deliver autocascade refrigeration systems down to -100°C.
Manufacturing
In-house manufacturing capabilities provide a full range of metal fabrication, machining, welding, brazing, assembly and test to deliver on every aspect of the system's specification – build, test, site acceptance, delivery and performance.

Operating in concert with engineering, our production facility provides the flexibility to accommodate the design of standard and custom temperature systems.

We are an ISO 9001 registered company.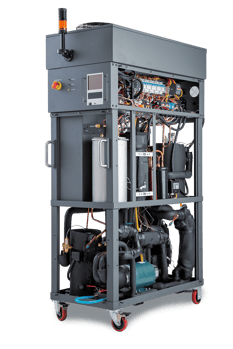 Temptronic Corporation, the pioneer and worldwide leader in localized temperature control systems, was founded in 1970. They introduced the concept of providing precisely controlled temperature directly to a device under test at the test site or bench top. For the right device it is a more accurate and convenient alternative to using temperature chambers and baths. System portability allows customers to incorporate temperature directly into their test instead of bringing their test to the temperature source, with far greater control and accuracy compared to conventional methods.

Sigma Systems, founded in 1956, is renowned worldwide for its thermal platforms and environmental chambers as a custom engineering and electronics packaging firm. Sigma's success is predicated on providing tailored solutions that match customer needs for simulating a stable environment or driving a device to precise temperatures. These application-specific solutions have given rise to a library of designs to offer as standard products.

Thermonics specializes in standard and custom portable chillers rated for temperatures from ultra-low at -110°C to over 200°C. With cooling capacity from 100W to 50kW using air or liquid cooling, these systems provide precise temperature control and stability. Building on expertise in refrigeration and fluids mechanics over four decades, Thermonics delivers process chillers for industrial applications in semiconductors, energy, manufacturing and other markets.

North Sciences, acquired in 2021 as Z-Sciences, designs and engineers laboratory equipment for biomedical, pharmaceutical, life sciences and healthcare. North Sciences provides a complete array of services and products designed to help every scientist gain a competitive advantage through stronger relationships, reduced costs, and optimized systems performance.

inTEST Thermal Solutions is part of the Environmental Technologies Division of inTEST Corporation (INTT, NYSE), a publicly-traded technology company headquartered in Mount Laurel, New Jersey, USA.
Four Ways to Contact Us for Support