High Performance Vaccine Refrigerators Removable Pull Out Drawers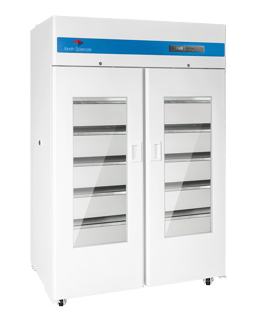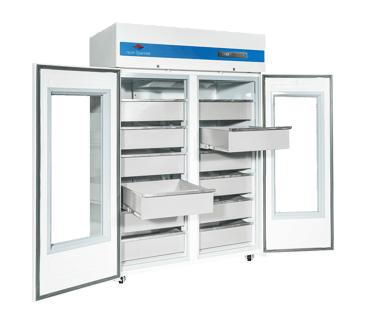 3 different configurations:
Blood Bank, Vaccine and Pharmaceutical
VRE-Series high-performance vaccine refrigerators are designed with features that support sample protection for the storage of pharmaceuticals, vaccines, chemotherapy and other medical and pharmacy-grade storage requiring 2 to 10°C, according to CDC recommendations. Dual-glass door design prevents condensation in environments <80% humidity and its fan for cooling works while door is closed, auto-stops when door is opened.
It is possible to remove the drawers for loading vaccines without compromising the temperature inside. Dual redundant temperature sensors connected to board and recording data on USB storage.
Temperature Control using a Microprocessor based, Large LED display inner temperature clearly, and with easy viewing

The inner temperature can be adjustable at the range of 2 to 10°C, with an increment of 0.1°C

Multiple sensors to display or control the temperature

Lock and password for protection to prevent arbitrary adjustment of operating parameters
Four Ways to Contact Us for Support