Covid-19 Samples transportation


Can work on 12/24 V Car adapter
Messenger 1 is a the true portable ULT freezer solutions available today for bringing COVID vaccine at Ultra Low Temperature without risks
Messenger 1 is perfectly sized, lightweight, and efficient portable -80°C freezers ideal for clinical trials and biologic drug delivery.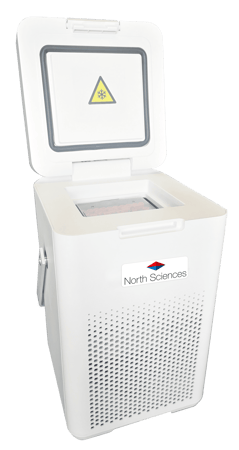 Portable, reliable, continuous ULT operation.

Messenger 1 weights only 13.5 kg and can be shipped anywhere in the world by courier.

100% natural refrigerants.

Piston Based Technology with No compressors no moving parts.

AC or 12-24 V DC outlet worldwide.



| | | | |
| --- | --- | --- | --- |
| Part Number | Temp. Range | Voltage | Volume - CuFt |
| DM8501 | -86 to 4°C | 12-24V | 0.035 |
Compact reliable, energy-efficient storage for cold-chain management, short-term or long-term ultra-low storage and transport of biological specimens.

Easy Sample Transportation With The Messenger Shuttle Portable Freezer
The Messenger Shuttle Portable Freezer is small, compact and ideal for clinical trials, biologic drug transport and immuno therapy delivery. It's safe and lightweight design also makes it useful for transportation of COVID-19 samples across various testing locations. Its portable adaptor can connect with the 12 or 24V vehicle power supply to ensure you have power on the go.
Equipped with breakthrough ultra-low cooling technology, the Messenger Shuttle Portable Freezer offers quick cooling while staying energy efficient. The precision temperature control systems ensure temperatures from -80°C to +4°C +/- 0.2ºC. It features a visual and audible alarm system that alerts users in case temperatures reach minimum acceptable levels.
Four Ways to Contact Us for Support