True Blue Support represents our unwavering commitment to deliver world-class service.
Our four product brands ─ Temptronic, Sigma Systems, Thermonics, and North Sciences ─ are supported by a team of experienced professionals who provide you with the in-depth technical assistance you need and deserve. In addition, if you have questions about parts and accessories, maintenance services, order status, and more, please contact us today. Just give us call or send us an email. We're here to help.
inTEST Thermal Solutions . . . serving customers worldwide with True Blue Support.
Support for Temperature Systems
For Technical Support:
T: +1 800 558 5080 or +1 781 688 2341
inTEST Thermal Solutions provides product support from a network of technical representatives and distributors in 50 locations around the globe. Product support includes temperature forcing systems from Temptronic and Thermonics, ThermoChuck from Temptronic, and chambers and platforms from Sigma Systems.
Parts and Accessories
• Worldwide technical support
• Experienced and responsive technical support personnel
• Parts depots in the United States, Germany and Singapore
Maintenance Services
• Extended Warranty Agreements
• Training Classes
• Preventive Maintenance Agreements
• Calibration Services
inTEST Thermal Solutions - Worldwide Locations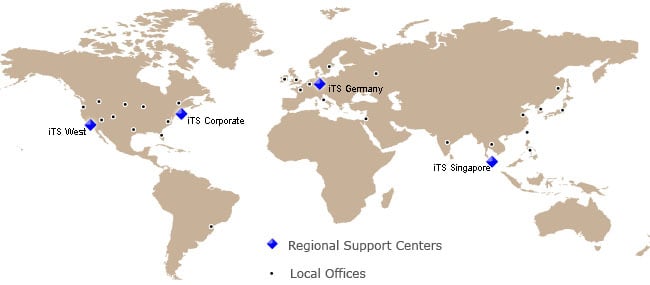 Four Ways to Contact Us for Support