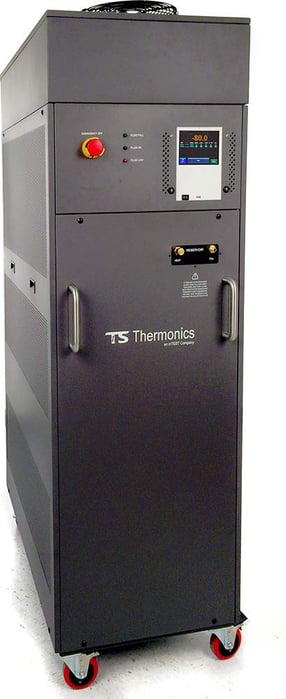 Low Temperature Process Chillers
Fluid Chillers for Low Temperature Cooling
Thermonics® designs low (-80.0°C) and ultra-low temperature (-100.0°C) chillers for cooling fluids and gasses in process cooling applications. Our chiller systems include fluid chillers, gas chillers, and cryogenically cooled (LN2, LCO2) chillers. Systems are available in:
• 9 water-cooled models (details below)
• 9 air-cooled models (details below)
• All models compatible with a variety of heat transfer fluids.
See specifications for our various Water-Cooled and Air-Cooled chiller models.

Temperature Ranges from
-100 to +300°C

Cooling Capacities up to 30kW

Air or Water Cooled Condensers
Standard and Custom Chiller Systems
• Temperature ranges from -100 to 300°C
• Cooling capacities up to 30kW
• Air or water cooled condensers
• Pumps and process fluids to match application
Our process chillers are used in a variety of industries including: chemical, energy, semiconductor, aerospace, defense, automotive, and more. We are an ITAR and ISO 9001:2015 registered company.
Thermonics specializes in the design and manufacture of low temperature standard and custom fluid chillers for challenging applications. The A-60-3000 FluidChill™ system delivers high reliability and precision temperature control.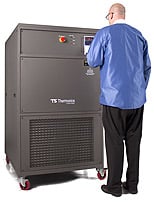 Notes:
1) Fluid pressure for all water-cooled and air-cooled models is 50 PSIG or less.
2) -40 and -60°C performance achieved with Syltherm XLT fluid. -80°C performance achieved with HFE-7100 fluid.
3) Consult factory for applications using other heat transfer fluids and flow rates.
Four Ways to Contact Us for Support