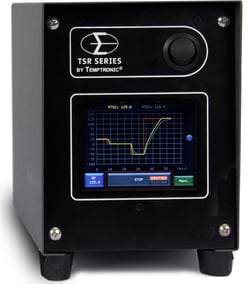 Controlling Thermal Plates with Precision
The TS Series Controller from Sigma Systems provides touch-screen operation and real-time graphing, plus two types of control - system and DUT control. The unique DUT Control mode provides a faster method to get your device to temperature.
Whether testing for design verification, FA, quality, or production verification, at MIL-STD or commercial specifications, the TS Controller delivers on throughput and precision.
• Real-time data and graphing
• Built-in diagnostics
• Independent fail safe
• CE approved
The TSR Series Controller was specifically designed to replace C, CC3, CC3.5 and C4 controllers used in Sigma Systems thermal chambers and platforms. It has the same physical dimensions permitting easy mounting for all legacy systems including those with built-in controllers. Compatible syntax allows use of existing programs. Moreover, the TSR delivers dramatic time savings and enhanced functionality.
• Fully compatible with older controllers — no need to rewrite programs
• Intuitive setup — touch-screen programming
• Settable DUT Control mode — brings device to temperature faster
• Real-time performance — numerical and graphical temperatures
• Added communications — Ethernet & USB
• Built-in diagnostics — valve counts, ambient temp, controller/blower runtimes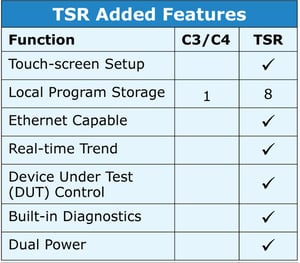 Four Ways to Contact Us for Support