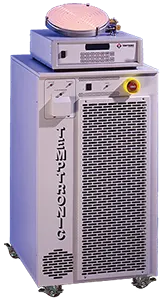 Temptronic ThermoChucks are conductive heating and cooling systems for wafer testing at temperature. Its primary use is for wafer testing in Probe Stations, as well as Laser Trim and Wafer Burn-in. A few specialized applications include Low leakage probing (fA level), and High voltage probing (up to 10kV).
• -65 to +300°C
• 150mm, 200mm & 300mm
• Retrofits available for existing probe stations
ThermoChuck systems are often highly configured for specific probe stations. Important parameters needed to match your application:
• Chuck size (diameter)?
• Temperature range required?
• Make and model of probe station chuck will be mounted to?
• Preferred plating on ThermoChuck surface (gold or nickel)?
• Other considerations (Low noise probing? High voltage probing, etc.)?
150 and 200mm Products

Available in 115V or 220V
Model

Temperatures

Cooling

Heating

TP03000A

-65 to +200°C

Mechanical refrigeration, closed loop liquid cooling

ThermoElectric

TP03010A

+20 to +200°C

Open loop air or water cooling*

ThermoElectric

TP03010B

0 to +200°C

Closed loop glycol/water cooling

ThermoElectric

TP03015A

+30 to +200°C (+300°C optional)

Open loop air or water cooling*

Resistive

TP03015B

+30 to +200°C (+300°C optional)

Closed loop glycol/water cooling

Resistive

*User supplies cooling medium
300mm Products

Available in 220V
Model
Temperatures
Cooling
Heating

TP03500A

-55 to +200°C

Mechanical refrigeration, closed loop liquid cooling

Resistive

TP03500D

+20 to +200°C (+300°C optional)

Open loop air cooling with Vortex*

Resistive

TP03500E

+30 to +200°C (+300°C optional)

Open loop air cooling

Resistive

*User supplies compressed air
Four Ways to Contact Us for Support