Thermal Platform application examples
Sigma Systems provides thermal platforms for myriad applications used for electronics testing and characterization - RF components, power devices (IGBTs and MOSFETs), and heat-sinks to name a few. Precise temperature control, temperature range, and temperature transitions are suitable for commercial, MIL-STD requirements or beyond. Several applications are described below.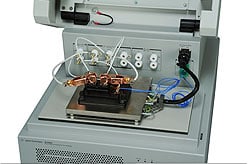 Hot Plate for Keysight Power Device Analyzer
When characterizing power devices such as IGBTs or MOSFETs, this temperature controlled plate is designed for the Keysight B1506A Power Device Analyzer. The HP289 thermal plate operates inside the analyzer's fixture, which reduces both cable length and risk of oscillation that can corrupt measurement data. To order refer to HP289-PM (inTEST SPEC #1.000.928).
Integrated ATE/Active Heat Sinks



When the DUT has to maintain a stable temperature while dissipating its heat load or needs to work with an automated tester, we provide the design and product know-how.
Work Surface
Plate
Width - inch (cm)
Length - inch (cm)
TP48
1.56 (4.0)
4.8 (12.2)
TP91
3.75 (9.5)
3.75 (9.5)
Active Heat Sink for PCBs
Two thermal platforms maximize thermal contact with large copper cores during Active Heat Sinks for PCBAs. Independent controllers provide flexible handling of variations in heat flux for each platform.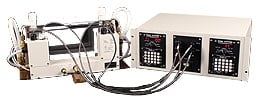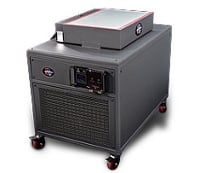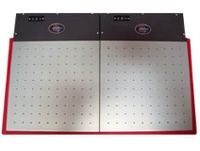 RF Component Test at Vacuum
A 384 sq. in., compressor-based controlled platform surface was designed to accommodate testing of a vacuum bell jar and collar at temperatures as low as -70°C.
Learn more about Thermal Vacuum Testing without a Vacuum Chamber.
When the DUT requires heating or cooling with different temperatures at the same time, a multi-plate design will do the job.
Work Surface
Plate
Width - inch (cm)
Length - inch (cm)
TP1164
6.75 (17.1)
26.85 (68.2)
TP1562
11.0 (27.9)
22.1 (56.1)
TP5110
44.1 (112.0)
18.0 (45.7)
Four Ways to Contact Us for Support