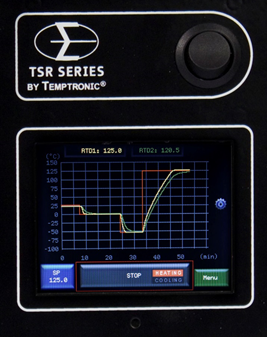 A replacement controller for Sigma Systems thermal chambers and plates has been introduced by inTEST Thermal Solutions. The TSR controller matches both size and programming syntax of legacy C3 and C4 controllers while adding the following enhancements:
Touch-screen setup - no need for user manual

Settable DUT control - monitor and control device temperature for faster test time

Temperature trending - probes and set point

Ethernet, IEEE, USB, RS232, IEEE-488

Replaces C, CC3, CC3.5, and C4 controllers.
Support for previous generation controllers will continue despite increasing pressures on parts obsolescence. Repair and availability of C4 Controllers will proceed based on parts availability.
For complete details see the data sheet or call +1 800 960 1036 or email sales@inTESTthermal.com.