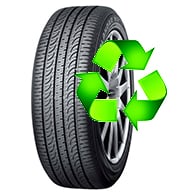 Thermonics has engineered a low temperature, small footprint chiller for use in the thermal-mechanical extrusion process that devulcanizes and recycles rubber. The chiller's continuous delivery of sub-cooled liquid carbon dioxide is critical for both the chemical conversion process and the health of integrated components that would fail if gaseous carbon dioxide entered the process.

With over one billion scrap tires generated globally each year, the chiller will endure a rigorous workload as it continuously condenses CO2 to meet the low temperature requirements of this environmentally sustainable, devulcanization process. "Engineering a reliable chiller to meet the exact temperatures and pressures required was not actually the difficult part for us – making it small enough to fit within their equipment setup was the challenge", noted Norbert Elsdoerfer, Thermonics V.P. of Engineering. Elsdoerfer's team was able to keep the chiller footprint to a diminutive 2'x2'x2', without compromising the robust cooling capacities needed for devulcanization.

The CO2 Condensing Chiller joins Thermonic's growing portfolio of OEM and standard chillers. To learn more about low and ultra-low temperature chillers, visit www.thermonics.com.

Learn more about devulcanization and rubber recycling at Tyromer Technology

Learn more about about LCO2 pumping and industrial process pumps at Morrflo - Pump systems and Service.