Using AI in the Lab (Cole Parmer Webinar)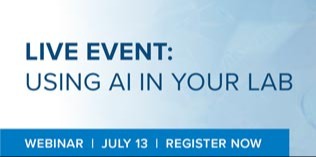 As scientists and science enthusiasts, we often have a love/hate relationship with technology. On one hand, it enables us to do things better, faster, or more nimbly.
On the other hand it sometimes creates controversies, complications, and difficult questions. The advent of revolutionary ideas like AI and cloud computing in the lab space is no different.
Join inTEST Thermal's managing director, Jean Fallacara, and Cole Parmer's Global Product Manager, David Hayes, and Technical Specialist-Traceable, Cindy Gisler, for a discussion about the outcomes of forward-thinking tech in labs today.
What you will learn:
The value of cloud-based data and AI to lab workers
The possibilities of this tech for the industry in the near future
How ULT freezers with TraceableLIVE cloud-based monitoring work into the strategy
Event Details:
Date: Thursday, July 13, 2023
Time: 11 am EDT | 8 am PDT
Duration: 1 hour
About Jean Fallacara
Jean Fallacara, engineer in biotechnology with a specialization in virtual reality and augmented reality from MIT, is an expert in cold storage with integrated monitoring systems. Jean is currently managing director for inTEST Thermal Solutions after his R&D group Z-Sciences Corp was acquired in 2021. As an author, he is also known for writing "Neuroscience Calisthenics: Hijack your Body Clock."